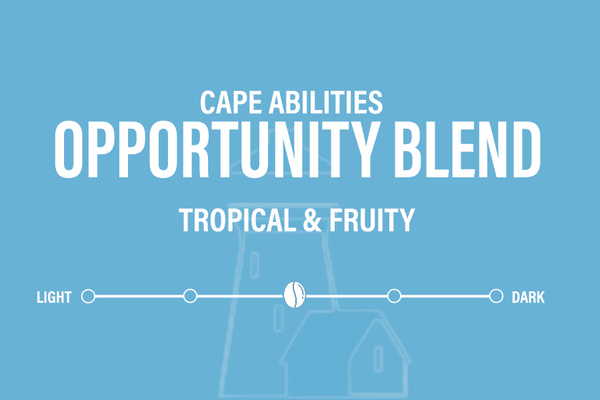 Cape Abilities Opportunity Blend
A Medium Body | Tropical & Fruity
A portion of proceeds from the purchase of this coffee supports Cape Abilities & helps fund programs for over 400 people with disabilities on Cape Cod.
Who they are:
Creating Opportunity for individuals with disabilities on Cape Cod is the touchstone that drives the life-changing services and supports offered by Cape Abilities. For 50 years, Cape Abilities has provided enriching, high quality services, coupled with diverse community opportunities that empower our participants to achieve meaningful and valued roles in society.
After 50 years of providing exception services to thousands of individuals with disabilities across Cape Cod, Cape Abilities continues to grow, and currently serves, at any one time, more than 400 individuals with a broad range of developmental and intellectual disabilities, including autism spectrum disorder, cerebral palsy, blindness, Down syndrome, acquired brain injury, hearing impairment, mobility limitations, seizure disorder and mental health issues. The agency has program centers in Hyannis, Eastham and Falmouth and has over 285 talented staff members.
Cape Abilities is a valued influential member of the Cape Cod community, where program participants live, work and volunteer, and forge meaningful partnerships with individuals and businesses. We also seek to create or promote partnerships with various local civic, social, business and educational groups in order to maximize secular and social opportunities for individuals with disabilities.
Learn more about Cape Abilities
here
.